It is a comfortable and soft fabric that is ground with a roller covered with sand grains, and then a layer of flannel is ground on the cloth. It has the characteristics of smooth suede surface, mild gloss, no lint and no fading, rich and soft touch, close to the body, cold protection and warmth. Such advantages make brushed bedding an indispensable bedding for winter protection and warmth.
How to maintain and maintain the sanding bedding? The following guarantees are sufficient.
1. Back cleaning.
Be sure to backwash when washing, because after the cotton cloth is sanded, the short pile on the surface will fall off due to washing. If it is not backwashed, put balls or small pieces in the quilt cover. lint will fall off.
2. To be used in a balanced manner.
Generally speaking, everyone's sleeping position is relatively fixed, which can easily cause some wrinkling or fading due to the different force and application type of the bedding. It is recommended to change the position of the sheets or bedding frequently, and exchange them up and down every three months.
3. Keep clean and hygienic.
Winter bedding is difficult to clean frequently. When this happens, you should pay attention to keeping it clean and tidy, and don't throw the changed clothes on the bed at will. It is best to wash it after taking a shower every day, and try not to let small pets run on the bed.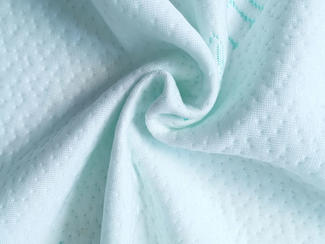 To stay dry.
Wet coolant is very harmful to the sanding bed, so maintaining comfort is an important part of ensuring the service life and comfort of the sanding bed. Sleep time should not be too long, try to open the windows for ventilation, and keep the room dry and irritable at any time.
can not be exposed to the sun
The cleaned bedding should not be exposed to the sun. Because the sun is too long, it is easy to make the quilt skyrocket, and it will continue to cause the quilt to fall, so it only needs to be placed in a cool place for 2-3 hours after cleaning.
Can't get in the quilt.
When tanning, it is best to remove the filler when shaving, so that the effect of tanning will be better. If you are still worried about sunburn, you can cover it with a layer of sheer gauze while shaving for sunburn.
Hangzhou Shude Industrial Co., Ltd
 is 
China Air Layer Fabric Manufacturers
 and 
custom Air Layer Fabric suppliers
, which is a professional group enterprise integrating product development, design, sales and production. The business is mainly dedicated to the production and design of jacquard knitted fabrics, and the production and sales of home textiles and home furnishing products such as pillowcases and bed covers. Among them, the jacquard knitted fabric has strong three-dimensional feeling, fullness, soft and comfortable hand feeling, upgrade product grade, and sales volume increase year by year. Generally, it can be used for Simmons mattresses, Air Layer Knitted Fabric, 3D mattresses, memory pillows, latex pillows, latex mattresses, pillows, back pillows, various health pillows, etc.