What are the advantages of Tencel fabric bedding? Tencel is a kind of cellulose fiber, also known as LYOCELL viscose fiber. Tencel is a brand-new fiber produced by solvent spinning as raw material from wood pulp. This fiber can be completely decomposed in the soil and has no pollution to the environment. 1st Century Green Fiber". Tencel fabric has beautiful luster, soft hand feel, good drape and good flow. Tencel has the "comfort" of cotton, the "strength" of polyester, the "luxurious beauty" of wool fabric, and the "unique touch" and "soft drape" of silk. Tenacity. In the wet state, it is the first cellulosic fiber with a wet strength far superior to that of cotton.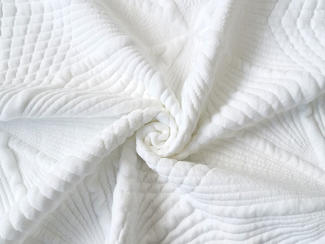 Advantages of Tencel fabrics
1. Softness of cotton: soft to the touch, good drape, comfortable to fit
2. The high strength of polyester and the warmth of wool
3. The cloth surface is flat, delicate and smooth, with the effect of natural silk
4. Good washing stability (shrinkage rate is only 2%),
5. Its environmental protection advantages: the raw material comes from wood, which can be continuously regenerated naturally. The wood is made into wood pulp, and the recovery rate is over 99%. It is non-toxic and non-polluting. .
6. It has good moisture absorption performance and better air permeability than pure cotton fabrics. It is an ideal close-fitting fabric, which is beneficial to human physiological circulation and health.
Disadvantages of Tencel fabric:
However, it tends to harden in hot and humid conditions and does not pick up well in cold water.