1. The cool fabric has a unique fiber structure, which has the characteristics of slow heat absorption, moisture absorption and sweat removal, rapid heat removal, dryness and coolness, and instant cooling. And cool, make clothes a natural personal air conditioner for the human body, so that people can increase the coolness in hot summer, and feel more refreshing and beautiful world. This is a new innovation in sports apparel and outdoor casual apparel fabrics. Cooling fiber uses extraction and nanotechnology to optimize and modify natural mineral materials such as natural jade powder, shell powder, mica powder, etc., and process it into nano-scale particles, and then spin with hydrophilic slices. And through the design of the fiber cross section, the fiber has a "capillary effect" to enhance the heat dissipation speed.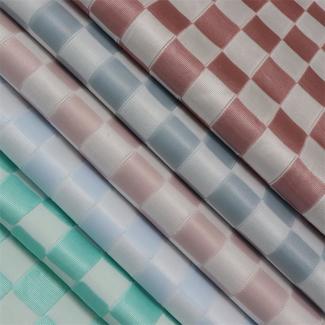 2. The fibers of the cool fabric are safe and have no negative irritating effects. They are lighter and thinner than ordinary fabrics, breathable, and comfortable to wear!
The coolness and dryness of cool fiber products are mainly reflected in two aspects:
(1) Good thermal conductivity, which means that the fabric has an obvious cold feeling in contact, so that the wearer can feel a cool feeling.
(2) Through various processing techniques, cool fiber products change the original fabric structure, which can quickly dissipate the sweat secreted on the body surface and maintain the dryness and comfort when the body surface contacts the fabric.
Hangzhou Shude Industrial Co., Ltd
 is 
China Cooling fabric Manufacturers
 and 
wholesale Cooling fabric factory
, which is a professional group enterprise integrating product development, design, sales and production. The business is mainly dedicated to the production and design of jacquard knitted fabrics, and the production and sales of home textiles and home furnishing products such as pillowcases and bed covers. Among them, the jacquard knitted fabric has strong three-dimensional feeling, fullness, soft and comfortable hand feeling, upgrade product grade, and sales volume increase year by year. Generally, it can be used for Simmons mattresses, Cooling fabric, 3D mattresses, memory pillows, latex pillows, latex mattresses, pillows, back pillows, various health pillows, etc. The supply of products is stable, and the quality is safe and environmentally friendly. At the technical and functional level, it is in a leading position in the industry. The company has advanced production equipment and mature professional technical water products. our 
wholesale Cooling fabric
 has passed the ISO9001 quality management system certification, obtained the independent research and development production license, and has the right to independently export products.