Blended is a blended chemical fiber fabric. It is a textile product made of chemical fiber mixed with other natural fibers such as cotton, silk, linen and other natural fibers. It has both the style of polyester and the advantages of cotton fabrics, such as polyester-cotton cloth and polyester-wool gabardine. Blended spinning is divided into wool and viscose blended spinning, sheep and rabbit hair velvet spinning, TR fabrics, high-density NC fabrics, 3M waterproof mousse fabrics, TENCEL fabrics, soft silk, TNC fabrics, composite fabrics, etc.
For example, polyester-cotton blended fabric is made of polyester as the main component, and is woven with 65%-67% polyester and 33%-35% cotton blended yarn. Polyester-cotton fabric is commonly known as cotton. Features: It not only highlights the style of polyester but also has the advantages of cotton fabrics. It has good elasticity and abrasion resistance in dry and wet conditions, stable size, low shrinkage, and has a tall and straight, not easy to wrinkle, easy to wash, and quick-drying Features, can not use high temperature ironing and boiling water soaking.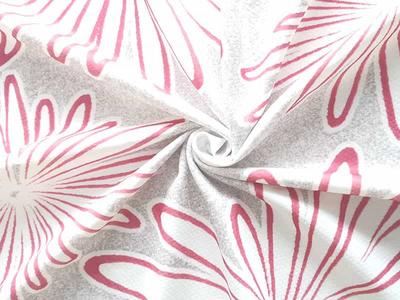 Wool-polyester fabric refers to a fabric made of wool and polyester blended yarns, and is currently the most common type of blended wool fabric. The common ratio of wool-polyester blending is 45:55, which can not only maintain the advantages of wool, but also exert the advantages of polyester. Almost all coarse and worsted wool fabrics have corresponding wool-polyester blended varieties. The blending ratio can be adjusted according to the needs of the fabric, such as 70:30, or 80:20. Among them, worsted wool-polyester thin tweed is also called cool, commonly known as wool is indeed cool, and it is one of the fabrics that best reflects the characteristics of wool-polyester blending. There are double-strand yarns for warp and weft, and double-strand yarns for warp and weft, single yarn for weft and single yarn for warp and weft, usually 20-14TEX (50-70 male count) double-strand yarn, and 10 for light fabrics. -8TEX (100-120 metric) double-stranded thread, the fabric weighs about 170-190G/m².
Compared with all-wool tweed, wool-polyester thin tweed has a lighter texture, good wrinkle recovery, strong wear-resistant, easy to wash and quick-drying, long-lasting pleats, stable size, not easy to be moth-eaten, but not as soft as full wool. If bright polyester is used as the raw material to participate in the blending, the surface will have a silky luster. If the animal hair of species such as cashmere or camel hair is used in the blending raw material, the hand will be smoother and softer.