In people's daily life, "four-piece set" generally refers to a four-piece set of bedding. There are now four sheet styles: a pair of pillowcases and a quilt cover. The four-piece set consists of a pair of pillowcases and one quilt cover. Four-piece bed skirt set: a pair of pillowcases and a quilt skirt.
When we sleep, we are in close contact with the four-piece set on the bed. The bed is an indispensable daily necessities in our daily life, and the fabrics of these beddings will be in direct contact with our skin. Sometimes the new bedding was not washed, and it smelled very bad after covering it overnight. Later, I washed it with water while the weather was fine, and dried it, but there was still a big smell. This has always been a problem for consumers, how to solve it?
1. For newly purchased bedding, the four-piece set should be washed and dried before use.
2. When cleaning the bedding, use the appropriate detergent and master the correct method to remove the odor of the product.
3. Recommendations for home textiles, whether it is bedding or clothing. If there is a peculiar smell, you should buy it with caution.
A four-piece suit goes through many steps from a blank piece of white cloth to the finished product. For example, printing and dyeing, tailoring, customization, packaging, transportation, etc., in the process, at least through the contact of multiple machines and multiple people. Therefore, bacteria can be carried in the body, which cannot be counted.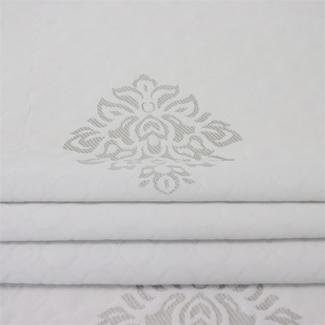 At present, due to the use of chemical dyes, some enterprises will leave the product with residual formaldehyde odor during the weaving and dyeing process of textile products. In fact, the state clearly stipulates the content standards of chemical dyes in textile products. However, there will still be some businesses that violate the regulations and produce substandard and inferior products, which are not conducive to the health of consumers.
Naturally, it does not mean that bedding has no odor, but it is produced in strict accordance with national standards during the production process. So the stink will be smaller and barely noticeable. Therefore, it is best to choose carefully when purchasing.
So, how to clean newly bought bedding?
Pour an appropriate amount of alkaline cleaner into warm water, and then wash it by hand or machine, gently rub or weakly wash, or soak it with salt and wash it. Because salt can disinfect, sterilize, and prevent cotton from fading.
At the same time, try not to mix the four-piece suit with other clothes, so as not to cause cross-dyeing. Of course, it is worth noting that it is normal for printed or dark products to fade slightly. If the fading is serious, this is a quality problem. .
If it is other bedding, it is not easy to clean. For example, for pillow cores and quilt cores, it is recommended to spread out some smells in a ventilated place, or dry them in the sun, which is more comfortable to use. When cleaning, pay attention to whether the detergent for the bedding is machine washable. It should be noted that dark products (products with coexistence of dark and light colors) cannot be soaked for too long to avoid fading.
Can the bed mite remover replace regular cleaning?
No, mites are easy to breed in a humid environment, and the bed mite remover can only kill some mites through ultraviolet rays. Moreover, the natural enemies of dust mites are all high temperature weather. Basically, they can kill their carapaces in a high temperature environment of about 50 °C. Therefore, you still need to clean your bedding frequently, and you can wash it once a week if you can!