The di
fference between woven cotton and pure cotton:
1. Different weaving methods: Woven cotton is mainly made by the shuttle method, but there are many pure cotton weaving methods.
Functional Air Layer fabric
2. Different cotton content: pure cotton contains 100% cotton, while woven cotton can be divided into cotton fabrics, wool fabrics, hemp fabrics, chemical

fiber fabrics, silk fabrics, etc. is not specific.
3. The characteristics are different: the fabric surface of woven cotton fabric is divided into warp direction and weft direction. When the warp and weft direction of the fabric is different, the fabric will also show different interweaving laws, and the main advantage of woven cotton is the layout comparison. Stability, that is, woven cotton fabrics will have a more precise pattern than knitted or cotton fabrics. And pure cotton is widely used in life and has good comfort and breathability. Clothes made of pure cotton fabrics are very comfortable to wear.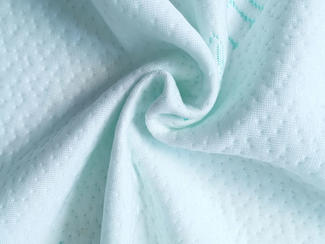 Hangzhou Shude Industrial Co., Ltd. is located in Yiqiao Town, Xiaoshan District with beautiful scenery, with fresh and pleasant air and convenient transportation. The company is a professional group enterprise integrating product development, design, sales and production. The business is currently diversified, covering a wide range of areas, mainly dedicated to the production and design of jacquard knitted fabrics, and the production and sales of home textiles and home furnishing products such as pillowcases and bed covers. Among them, the jacquard knitted fabric has strong three-dimensional feeling, fullness, soft and comfortable hand feeling, upgrade product grade, and sales volume increase year by year. Generally, it can be used for Simmons mattresses, 3D mattresses, memory pillows, latex pillows, latex mattresses, pillows, back pillows, various health pillows, etc.
Composite Fabric