When choosing home textile sheets, we still prefer high-end home textile sheets, which bring out the taste of monks. It's also more comfortable for us. But we also need to know what kind of bed sheet is suitable for us and what kind of material is more comfortable.
1. The material of the bed sheet is pure cotton, which has good hand feeling, comfortable use and easy dyeing, which meets our needs. Variety, soft and warm, hygroscopic, washable, less charged, is a widely used material for bedding.
2. The material of the bed sheet is yarn-dyed pure cotton, which is a kind of pure cotton cloth. It uses different colors to give us a good feeling. It is woven from weft yarns, dyed first and then woven. The different-color gauze has a strong three-dimensional effect and a unique style. The bedding is mostly strip-shaped and has the characteristics of pure cotton.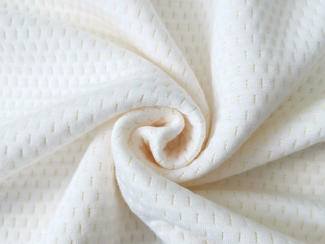 3. The material of the bed sheet is high-count and high-density jacquard pure cotton, the warp and weft density of the fabric is particularly large, and the weaving method is varied. Therefore, the fabric feels thick, durable, and has a high surface finish. Most of them are light-colored and patterned, which is very unique. It is one of the more advanced types of pure cotton fabrics.
4. The material of the bed is made of polyester. Generally, polyester-cotton fabrics with a ratio of 65% polyester and 35% cotton are used, which are very comfortable. Polyester-cotton is divided into two types: plain weave and twill weave. The strength and wear resistance are very good, the shrinkage rate is extremely low, the appearance of the product is not easy to be out of shape, and it is durable.
5. The bed sheet material is silk, which is dazzling and lustrous, with natural soft light and flickering effect. Super premium, comfortable and comfortable, with good elasticity, softer than cotton.
Using this sheet for a long time can easily cause mildew and other phenomena. Especially in the south, the climate is relatively humid, and the home is damp in spring and summer, and the sheets are prone to mildew and mildew. How to wash the mildew on the sheets?
Hangzhou Shude Industrial Co., Ltd
 is 
China Air Layer Fabric Manufacturers
 and 
custom Air Layer Fabric suppliers
, which is a professional group enterprise integrating product development, design, sales and production. The business is mainly dedicated to the production and design of jacquard knitted fabrics, and the production and sales of home textiles and home furnishing products such as pillowcases and bed covers. Among them, the jacquard knitted fabric has strong three-dimensional feeling, fullness, soft and comfortable hand feeling, upgrade product grade, and sales volume increase year by year. Generally, it can be used for Simmons mattresses, Air Layer Knitted Fabric, 3D mattresses, memory pillows, latex pillows, latex mattresses, pillows, back pillows, various health pillows, etc.