Tips for cleaning the bed:
Coup 1. Generally, in addition to cleaning silk sheets, sheets of other materials can be machine washed. Pour neutral detergent into the washing machine water first. The temperature of the water should not exceed 30 ℃. Put the sheets in the wash, wash and then dry in a ventilated place.
Coup 2. If the sheets are stained with blood and stains that cannot be washed off, it is recommended to prepare a bottle of underwear cleaner at home. Underwear cleaner is specially designed for blood stains, so when the sheets are stained with blood, rub a few times with underwear cleaner. down, and then cleaned.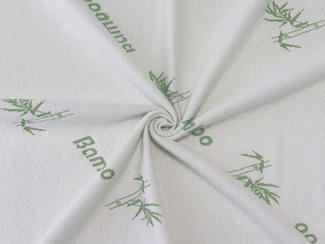 Coup 3. For linen bed sheet products, pay attention, do not scrub hard, so the fiber products are very fragile, which will not only be easy to fluff, but also affect the appearance and service life, so pay attention to the material of the bed sheet not too hard. Maintenance skills on the bed There are also many aspects to be paid attention to in the maintenance of bed sheets. Light-colored and dark-colored products should be stored separately, so as to avoid the color turning yellow. White silk products should not be placed in mothballs or in mothballs, otherwise they will turn yellow. , and when collecting white silk, it must be cleaned and thoroughly air-dried. When not in use for a long time, it can be dried in the sun before use to restore fluffy.
Hangzhou Shude Industrial Co., Ltd
 is 
China Air Layer Fabric Manufacturers
 and 
custom Air Layer Fabric suppliers
, which is a professional group enterprise integrating product development, design, sales and production. The business is mainly dedicated to the production and design of jacquard knitted fabrics, and the production and sales of home textiles and home furnishing products such as pillowcases and bed covers. Among them, the jacquard knitted fabric has strong three-dimensional feeling, fullness, soft and comfortable hand feeling, upgrade product grade, and sales volume increase year by year. Generally, it can be used for Simmons mattresses, Air Layer Knitted Fabric, 3D mattresses, memory pillows, latex pillows, latex mattresses, pillows, back pillows, various health pillows, etc. The supply of products is stable, and the quality is safe and environmentally friendly. At the technical and functional level, it is in a leading position in the industry. The company has advanced production equipment and mature professional technical water products. our 
wholesale Air Layer Fabric
 has passed the ISO9001 quality management system certification, obtained the independent research and development production license, and has the right to independently export products.