What rayon fabric?
Rayon is a silk man-made fiber composed of cellulose, and cellulose is an organic compound that constitutes the main component of plants, such as chemical filaments, such as viscose, cupro, and cellulose. Cotton short velvet is chemically produced. It is a material with strength and wear resistance, and has hydrophilic properties. It is widely used in the production of hanging fabrics, pharmaceuticals, non-woven fabrics, and sanitary products.
How to wash rayon fabric?
The strength of rayon is very good in the dry state, but its strength will be greatly weakened when it is soaked. Therefore, in the process of washing, the rayon fabric will be damaged if you are not careful. The elasticity and resilience are not particularly good, especially after washing, the rayon will shrink greatly, and it is also prone to mildew. Therefore, the use of rayon is limited in many cases.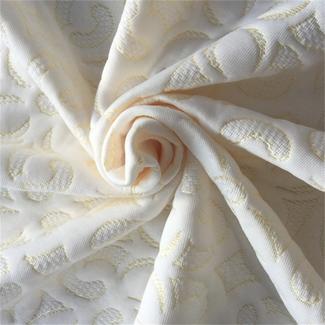 Hangzhou Shude Industrial Co., Ltd
 is 
China Rayon Fabric Knitted Air Layer Fabric Suppliers
 and 
custom Rayon Fabric Knitted Air Layer Fabric Manufacturers
, which is a professional group enterprise integrating product development, design, sales and production. The business is mainly dedicated to the production and design of jacquard knitted fabrics, and the production and sales of home textiles and home furnishing products such as pillowcases and bed covers. Among them, the jacquard knitted fabric has strong three-dimensional feeling, fullness, soft and comfortable hand feeling, upgrade product grade, and sales volume increase year by year. Generally, it can be used for Simmons mattresses, Rayon Fabric Knitted Air Layer Fabric, 3D mattresses, memory pillows, latex pillows, latex mattresses, pillows, back pillows, various health pillows, etc. The supply of products is stable, and the quality is safe and environmentally friendly. At the technical and functional level, it is in a leading position in the industry. The company has advanced production equipment and mature professional technical water products. our 
custom Rayon Fabric Knitted Air Layer Fabric
 has passed the ISO9001 quality management system certification, obtained the independent research and development production license, and has the right to independently export products.