Under normal circumstances, after buying a new bedding, we will wash it with water before using it, but sometimes we find that the bedding we just bought will shrink after washing! The original suitable quilt cover is small after washing!
So, how can we avoid this?
Don't worry, we have to figure out why the mattress shrinks before we can figure out how to avoid the reduction.
In fact, whether it is cotton, linen, wool or Tencel, such fabrics will shrink. After processing, printing and dyeing, the fabrics need to be stretched, shaped, washed and other post-treatments, but even so, they cannot achieve no shrinkage at all. Effect. Since shrinkage is unavoidable, how much does the cloth normally shrink?
The shrinkage rate of bedding fabrics, according to the regulations, the qualified amount should be within 5%, but due to the different raw materials of bedding, so the shrinkage rate is also different, there is a question we are more concerned about, which fabric is easy to shrink?
The shrinkage rate of hygroscopic fibers is large in natural fibers, on the contrary, the shrinkage rate is low, such as cotton, hemp, wool, silk and regenerated cellulose fibers (natural, modal, viscose, bamboo fiber, etc.), while chemical fibers are hygroscopic due to moisture absorption. Small capacity and low shrinkage.
Many people will be curious, why did knitted fabrics shrink? This is because the knitted fabric is a fabric with a sparse structure. The tighter the fabric, the less likely it is to shrink. The thinner the fabric, the easier it is to shrink. Therefore, the shrinkage of the knitted fabric is higher than that of the general cotton fabric.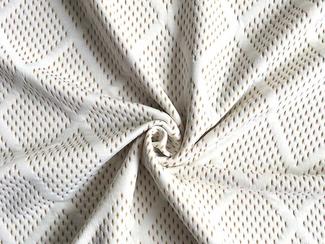 How to reduce the shrinkage of the fabric?
Sometimes, the bedding shrinks seriously, largely due to improper washing methods, so pay attention to the following matters when cleaning:
Softeners can be used appropriately, and washing powder and laundry detergent should be used as little as possible.
The temperature of the water should be controlled below 35°C, and hot water should not be used for washing.
Soak in light salt water for half an hour, then rinse with cold water.
Do not iron at a high temperature of 110°C, do not expose to the sun, and dry.
Use a flat lay or use a wooden drying rack to cool and dry.
The bedding has shrunk and can be pulled up and ironed with a steam iron.
In fact, fabric shrinkage is a normal phenomenon. We don't need to listen to the bedding after washing, and we will begin to doubt its quality. In fact, as long as we handle it properly, the impact of fabric shrinkage is very small and can be almost ignored.
Therefore, when you buy new bedding, you must check the washing label c

arefully before cleaning, and use the correct cleaning method.
Hangzhou Shude Industrial Co., Ltd is China Copper ion Functional knitted air layer fabric Suppliers and custom Copper ion Functional knitted air layer fabric Manufacturers, which is a professional group enterprise integrating product development, design, sales and production. The business is mainly dedicated to the production and design of jacquard knitted fabrics, and the production and sales of home textiles and home furnishing products such as pillowcases and bed covers. Among them, the jacquard knitted fabric has strong three-dimensional feeling, fullness, soft and comfortable hand feeling, upgrade product grade, and sales volume increase year by year. Generally, it can be used for Simmons mattresses, Copper ion Functional knitted air layer fabric, 3D mattresses, memory pillows, latex pillows, latex mattresses, pillows, back pillows, various health pillows, etc. The supply of products is stable, and the quality is safe and environmentally friendly. At the technical and functional level, it is in a leading position in the industry. The company has advanced production equipment and mature professional technical water products. our custom Copper ion Functional knitted air layer fabric has passed the ISO9001 quality management system certification, obtained the independent research and development production license, and has the right to independently export products.