Nowadays, people pay more and more attention to the quality of life, and they should not be underestimated in terms of diet, clothing, housing, and transportation. As a futon, it is more important because it comes into direct contact with the skin. So, how to choose the right product? The following points are worth noting.
1. Fabric
When choosing bedding, whether it is a pillow or a quilt, you must check the quality of the fabric. You can touch it with your hands. If it feels softer and more skin-friendly, no matter it is pure cotton or polyester-cotton, the quality is better. At the same time, Also pay attention to its anti-shrinkage, anti-wrinkle, straightness, etc. Only with good performance in these aspects will it be more comfortable to use
Lining Fabric
.
2. Process
The products produced by regular factories have fine craftsmanship, smoothness, and no needle holes, while inferior products are prone to the phenomenon of excessively long stitches, obvious needle holes, and sparse and uneven stitches. This is also a factor for judging the quality of bedding. For patterned bedding, attention should be paid to the integrity and consistency of the pattern. If there is quilting, it should be noted that the quilting track should be smooth, without wrinkles, etc., and it is better to use.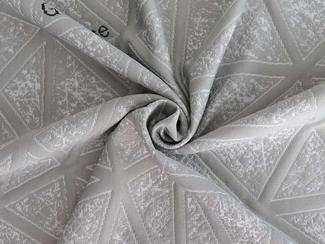 3. Smell
When buying a quilt, everyone can smell the odor. If the product emits a pungent odor, it is likely to use inferior materials. It is recommended that you do not buy it.
4. Label
The quilt label is also a point worth paying attention to. Generally, the product label of a regular brand has a relatively complete content, such as precautions, materials, etc., including whether it contains formaldehyde, and the amount contained is very clear, which is more guaranteed to the quality. And the product label information is incomplete, irregular, inaccurate, or the product label is vaguely printed, and consumers should purchase with caution. Therefore, when buying products, everyone should try to choose a big brand, and be sure to choose a series of complete product information such as product labels, which is also safer.
5. Match
In order to choose a suitable bedding, in addition to its quality, it should also be considered in combination with the family room environment, because it is more harmonious with the room environment and more unified with the overall style of the home, so that it can visually bring people beautiful enjoyment.
Here you can also consider the material. Different materials will bring different feelings, such as rough and warm cotton and linen, simple and natural printed cloth, luxurious silk and satin, elegant velvet, etc. Everyone can look at it from the point of view of material. Consider that different materials will bring different feelings, such as rough and warm cotton and linen, simple and natural printed cloth, luxurious silk and satin, elegant velvet, etc. All can be considered by everyone, different materials will bring different feelings and feelings , such as cotton is rough and warm, printed cloth is simple and natural, silk and satin are luxurious, velvet is elegant,
So, the above is all about how to choose bedding. I hope that after reading this article, you can choose bedding for yourself, which is helpful.