Polyester fabrics are smooth fabrics.
It is an important variety of synthetic fibers, also known as polyester fibers, the biggest feature is that it has good wrinkle resistance and shape retention. The fabrics woven from ordinary polyester filaments have the advantages of good strength, freshness and crispness, easy washing and quick drying, but they have the disadvantages of hard hand feeling, poor hand feeling, soft luster, poor air permeability and poor hygroscopicity. Polyester can be divided into staple fiber, drawn yarn, textured yarn, decorative yarn, industrial yarn and various differentiated fibers, etc.
Polyester properties include:
1. High strength. Short fiber strength is 2.6~5.7cN/dtex, high tenacity fiber is 5.6~8.0cN/dtex. Due to its low hygroscopicity, its wet and dry strength are basically the same, and its impact resistance is 4 times higher than nylon and 20 times higher than viscose.
2. Good elasticity. The elasticity is close to that of wool, and it can almost fully recover when stretched by 5% to 6%. The wrinkle resistance is better than other fibers, that is, the fabric does not wrinkle and has good dimensional stability. The elastic modulus is 22~141cN/dtex, which is 2~3 times that of nylon.
3. Good heat resistance.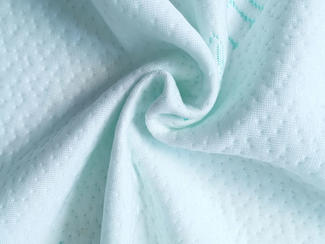 Hangzhou Shude Industrial Co., Ltd
 is 
China Air Layer Fabric Manufacturers
 and 
custom Air Layer Fabric suppliers
, which is a professional group enterprise integrating product development, design, sales and production. The business is mainly dedicated to the production and design of jacquard knitted fabrics, and the production and sales of home textiles and home furnishing products such as pillowcases and bed covers. Among them, the jacquard knitted fabric has strong three-dimensional feeling, fullness, soft and comfortable hand feeling, upgrade product grade, and sales volume increase year by year. Generally, it can be used for Simmons mattresses, Air Layer Knitted Fabric, 3D mattresses, memory pillows, latex pillows, latex mattresses, pillows, back pillows, various health pillows, etc. The supply of products is stable, and the quality is safe and environmentally friendly. At the technical and functional level, it is in a leading position in the industry.