Healthy eating and comfortable sleep are our pursuit of life! About a third of these people are sleeping. Research has shown that sleep quality has a big impact on how well the day goes. So, how can we ensure the quality of our sleep? Everyone has thought about: in fact, what kind of fabric to choose, the four-piece bed set is very important! High-quality fabrics will make us sleep comfortably and healthily! In this way, we can be full of energy throughout the day and enjoy a comfortable sleep!
Due to the negative effects of chemicals, more and more friends now like pure natural products without additives, thinking that natural is healthy. Basically, products with fewer ingredients are less harmful to the human body.
Especially the four-piece bed set is a skin-friendly product, which has a great impact on the human body. If the fabric is not selected properly, it is easy to cause poor sleep. In severe cases, it will also affect your health.
What kind of fabric is suitable for making a four-piece bed? I believe that many people will like to choose pure cotton when they buy clothes outside. Because it is comfortable and soft to wear! In the same way, the four-piece bed set made of pure cotton is also very comfortable.
So why are cotton bedding better?
1. Hygroscopicity
Cotton fiber has good hygroscopic properties. Generally, the fiber can absorb water into the ambient air, and its water content is 8~10%. In contact with human skin, it feels soft and not stiff. If the moisture content of cotton fabrics increases and the ambient temperature increases, the moisture contained in the fibers will be evaporated. Keeps the fabric water-balanced and comfortable.
2. Moisturizing
Cotton is not good at transferring heat and electricity, and its thermal conductivity is very low. And its own advantages are good permeability and high elasticity, so that a large amount of air can be stored between fibers. At the same time, air is not good at transferring heat and electricity. Therefore, the mattress made of cotton four-piece set has a good moisturizing type and makes the user feel warm.
3. Heat resistance
Pure cotton fabrics have good heat resistance, no more than 110 ℃, so that the water on the fabric can evaporate without damaging the fibers, so the four-piece set made of pure cotton can be used at room temperature, durable and washable!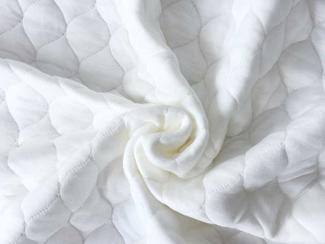 4. Hygiene
Cotton is a natural fiber, the main component is cellulose, it contains a small amount of wax and nitrogenous substances, so many clinics use pure cotton cloth, because pure cotton touches the skin, has no side effects, and is beneficial to the human body, so the four-piece bed The set has good hygienic performance!
5. Skin friendly
Because of the characteristics of cotton fiber itself, it feels soft and delicate, rich in texture, especially close to the body and warm feeling.
According to the advantages of the above-mentioned pure cotton bedding, the four-piece bedding is made of pure cotton. Make our sleep quality more comfortable and warm.
Hangzhou Shude Industrial Co., Ltd
 is 
China All Cotton Knitted air layer fabric Suppliers
 and 
custom All Cotton Knitted air layer fabric Manufacturers
, which is a professional group enterprise integrating product development, design, sales and production. The business is mainly dedicated to the production and design of jacquard knitted fabrics, and the production and sales of home textiles and home furnishing products such as pillowcases and bed covers. Among them, the jacquard knitted fabric has strong three-dimensional feeling, fullness, soft and comfortable hand feeling, upgrade product grade, and sales volume increase year by year. Generally, it can be used for Simmons mattresses, All Cotton Knitted air layer fabric, 3D mattresses, memory pillows, latex pillows, latex mattresses, pillows, back pillows, various health pillows, etc. The supply of products is stable, and the quality is safe and environmentally friendly. At the technical and functional level, it is in a leading position in the industry. The company has advanced production equipment and mature professional technical water products. our 
custom All Cotton Knitted air layer fabric
 has passed the ISO9001 quality management system certification, obtained the independent research and development production license, and has the right to independently export products.