Knitted air layer fabric is a double-sided knitted fabric, also known as space cotton fabric, the English name is SCUBA KNIT. What are the advantages and disadvantages of air layer fabrics? The air layer cotton fabric is stretchy, thick, wide, and tough, yet warm and supple to the touch.
Advantages and disadvantages of knitting air layer fabrics: Air layer fabrics are made by a dedicated circular knitting machine
woven. It will have a height and thickness of about 1-2mm, unlike a composite fabric with a tightly bonded layer in the middle. It is this fine chemical fiber (or pure cotton yarn) that connects the two sides of the fabric together, because the air layer cotton is thicker and hollower than other composite fabrics. Space cotton is not as soft as ordinary double-sided fabrics, but has the stiffness and thickness of coat cloth, so many people use it as a sweater fabric to make coats, sweaters, coats, windbreakers and other knitted clothing.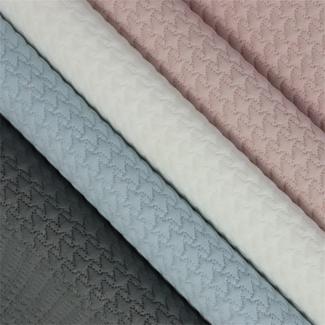 What are the advantages and disadvantages of knitted air layer fabrics?
1. The thermal insulation performance of the air layer fabric is excellent. Its structure is designed as a composite structure of an inner layer, a middle layer and an outer layer, and the middle layer is kept hollow, which can effectively isolate the air and achieve the effect of keeping warm.
2. The air layer fabric is generally made of pure cotton spandex
It is interwoven with cotton polyester spandex, so the air layer cotton has the advantages of good moisture absorption, moisture retention and breathability of knitted cotton.
3. Because the air layer fabric is thick, it must be hung during daily washing and wearing, and cannot be folded for storage. Otherwise, the creases will be difficult to recover for a long time, which will affect the appearance of the clothing. If it is a pure polyester air layer cloth, pay attention to spinning to avoid sharp objects touching the surface of the fabric.